Invasive alien species are the alien or non-native species that have been introduced by humans either accidentally or deliberately and negatively impact biodiversity, economies or society (including ecosystem services and human health). Spotting invasive alien species locally and assessing their multiple impacts is of immense importance, particularly for prioritising management approaches.
Read our blog if you want to join in and learn more about what you can do to help!
A three day workshop took place between the 26th-28th of April at the Akrotiri Environmental Education Centre (AEEC) in Akrotiri village, Cyprus. The main aim of the workshop was to provide an assessment of current and future invasive alien species in Cyprus.
This 'horizon scanning' exercise involved many experts from government departments, universities, research organizations and NGOs from Cyprus, the UK, Greece, Israel, Belgium and Italy (see below for a photo of all the participants). The experts produced a list of species that they consider are most likely to be introduced to Cyprus within the next 10 years. This list was then ordered given the expert's expectations of the listed species' impacts on biodiversity and human health. This list will be published in a peer-reviewed journal and will be communicated through social media and press releases to all relevant stakeholders and the public in the following months.
Horizon scanning group photo  - The participants of the Horizon Scanning workshop Sitting: Voula Karachle, Elena Tricarico, First row (Left to right) Nicolas Michaelides, Pantelis Savvides, Steffi Schafer,  Marc Botham, Demetris and Periklis Kletou, Oli Pescott, Helen Roy, Kelly Martinou, Jodey Peyton, Gwynne Harper Bella Galil, Margarita Arianoutsou, Giannis Bazos, Argyro Zenetos, Kevin Shawcross, Alexia Perdiou, Davey Reynolds, Jill Key, Alex Kirschel, Christina Ieronymidou. Second row (right to left) Athina Papatheodoulou, Monica Demetriou, Niki Chartosia, George Fyttis, ……. George Payiattas, Nikos Kassinis, Eddie Foroma, Lefkios Sergides, Adam Sellars, Iacovos Tziortzis, Pantelis Charilaou, Elli Tzirkalli, Glen Bullivant, Carlos Jiimenez, Ian Winfield, Jim Fawcett, Olaf Booy, Tim Adriaens and Thomas Hadjikyriakou
What's on your doorstep?
The workshop also included several other activities, with one of the many highlights being the time we spent with visiting school children. Ten-year old students from the Akrotiri village, along with their teachers, helped us test some questionnaires developed specifically for the workshop. We asked the young students what they thought of several invasive alien species that the might encounter, or might encounter in the future, around the Akrotiri wetland. We also included some native species that may be currently affected by invasive alien species, and the students were asked to comment on these species as well. Understanding human perceptions regarding invasive alien species, as well as raising awareness regarding the impacts of invasive alien species (that in some cases might not be considered as problematic by people), is vital for conservation managers, as well as public health authorities. The public can greatly help the work of scientists through so-called 'citizen science' initiatives in which people contribute information or opinions. Citizen-scientists, including young students and volunteers, can provide useful insights into their perceptions of species, but they can also contribute with local knowledge about the species that are present, and their potential impacts. The students also had the opportunity to meet invasive alien species experts from Israel, Italy and the UK, and to discuss different invasive alien species, particularly from an ecological perspective, and to consider the importance of the native biodiversity of Akrotiri, such as butterflies and moths. A key output of our project is to engage with people who live in Cyprus on the importance of spotting and reporting invasive alien species, and we are working with the AEEC to develop a work package for schools to encourage just that.
Dr Marc Botham from CEH, teaching the Akrotiri School children about insects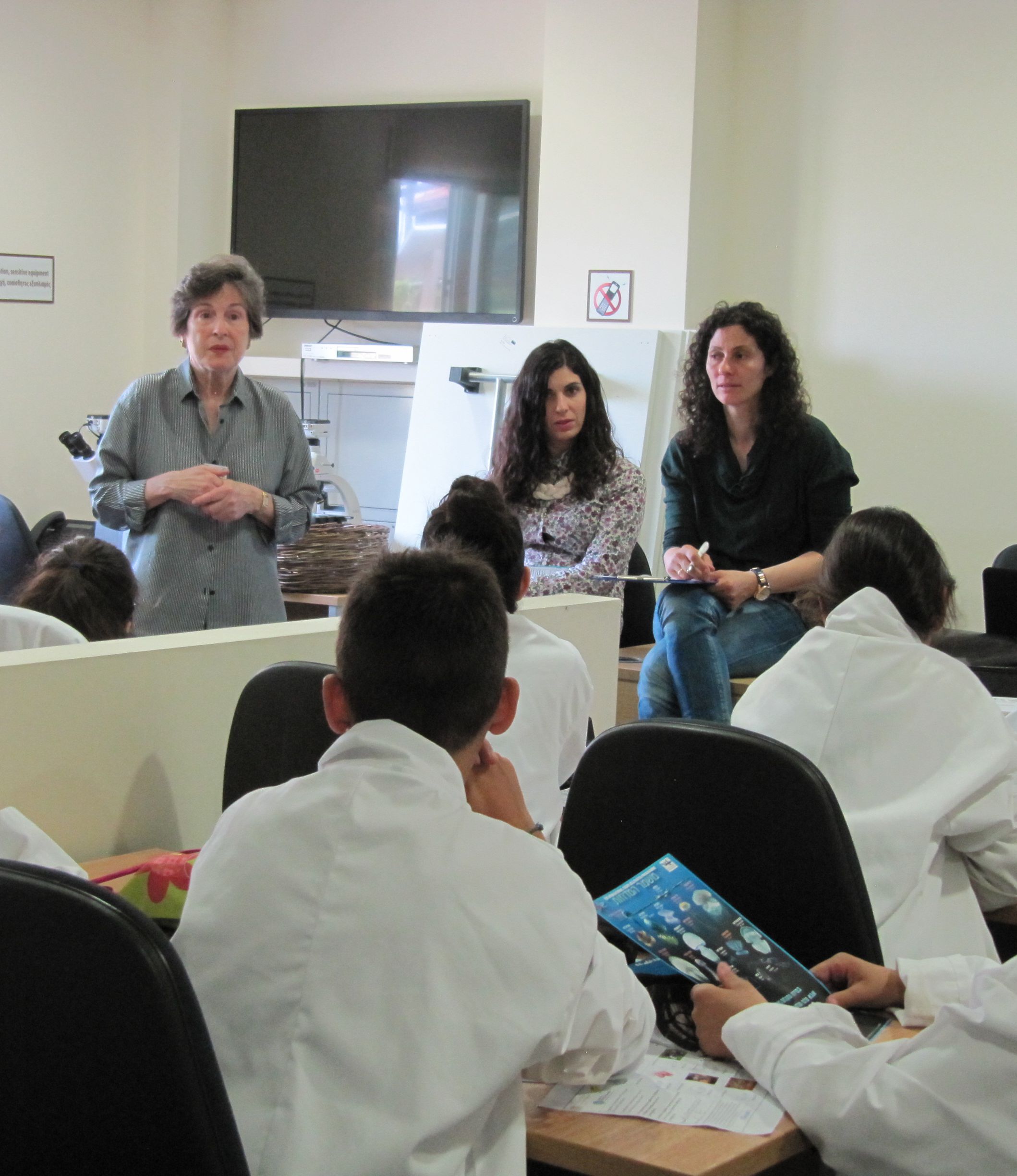 Dr Bella Galil presenting on marine life to the students.
What's on your doorstep?
We are so grateful for those of you who joined us, we had an amazing time and learnt a lot from you too.
If you want to know more about invasive alien species and our future activities, and especially if you want to help us record invasive alien species going forward, please check out our facebook page and our website www.ris-ky.info or get in touch via our email info@ris-ky.info
We look forward to working together again with all of you!
Finally, thank you to all of our colleagues and tho made this workshop such a fantastic experience!
Kelly Martinou and Jodey Peyton